As a recruitment agency, Novi Global Recruitment Bulgaria helps different employers and brands, motivated to grow their teams with the fittest A-players in their industries. But we are also reaching out to connect with much more candidates, who are determined to find their most suitable employer. It could be said that building relationships is in the heart and soul of what we do on a daily basis. It may seem that the building blocks in this process are laid primarily during our interviews with the applicants, and this often is true. Yet there's much more that meets the eye, which often could stay hidden from the employers themselves. How we addressed the person, how much time it took to update the person about the position, were we too detailed and rigid or were we passionate, did we leave them with a sense of "Yes! That's the job I'd like to invest my energy into".
And that is why each feedback is so important for us. It tells us where we failed and what we lacked of. It tells us where we're strong and what we do well. This particular year, 543 candidates who applied for a new job in Bulgaria through Novi Global took their time and filled out our Candidates Satisfaction Survey, which asked just these basic questions:
Was the interview conducted by our colleagues coherent and detailed enough?
Was the phone & e-mail communication with our consultants conducted in a timely manner?
What is your understanding about the vacancy after the talk?
Was the consultant positive and friendly in your communication with you?
Would you recommend "Novi Global" as a recruitment agency to candidates or employers, looking for talent?
At a glance, this is what they said: "Nothing to add. You were amazing!"
Our candidates are happy with us! Almost 80% would gladly recommend our services and would share their experience with a positive nod.
We're a friendly lot! We left 95% of all respondents with the impression that we're affable and helpful, which really strikes in the heart of our grumpy nature. Thank you!
We're precise! We conducted a clear-cut and informative interview with almost 90% of our candidates.
Roughly 60% found themselves very well informed about the company and role at play after the interview, whereas another 35% needed more first-hand information directly from the employer.
On the other hand, sometimes we're too elaborate, and one of our candidates said:"After initial contact I was told that a person will contact me with additional information for the position. I had to wait for 2 days before somebody contacted me. I would appreciate it if the agency is faster in their communication with prospective applicants."
One would say that this is an isolated case, but even so it clangs for us as a huge bell, reminding us how important it is for us to react quickly, be coordinated, well-structured and organized. Of course, we're merely humans and as such we are predisposed to be mistaken now and then. Overall, the survey reveals we succeed in being prompt and coordinated, as almost 95% of the candidates would agree that the communication process with us flows rather pleasantly normal or even fast.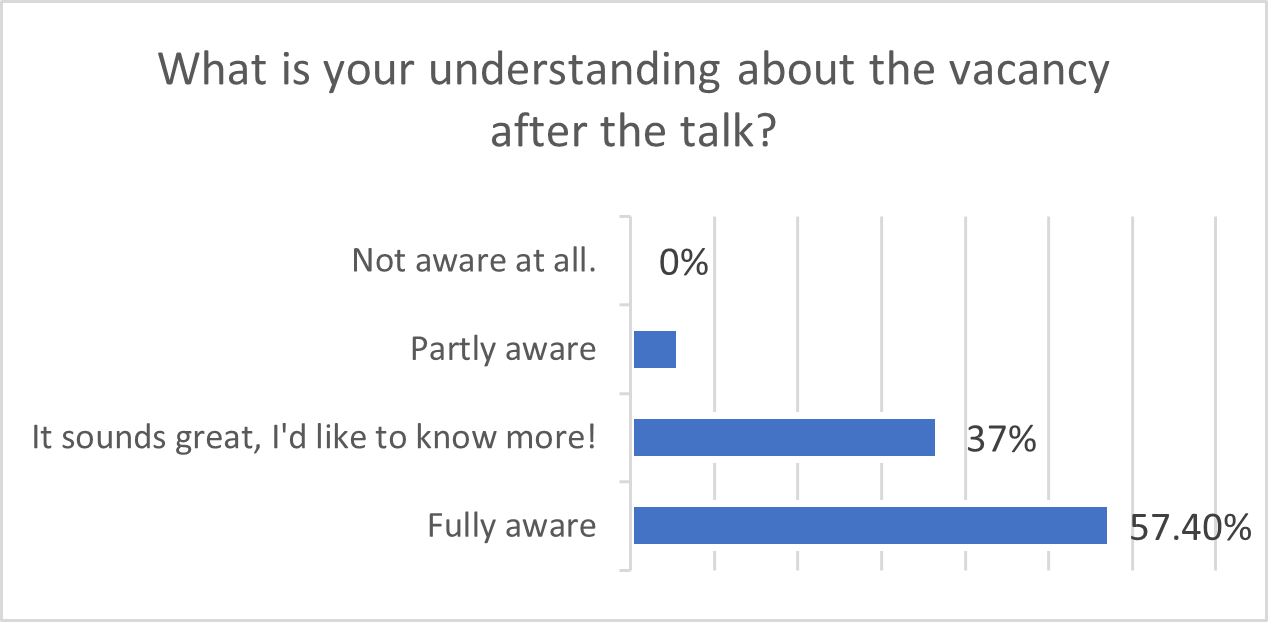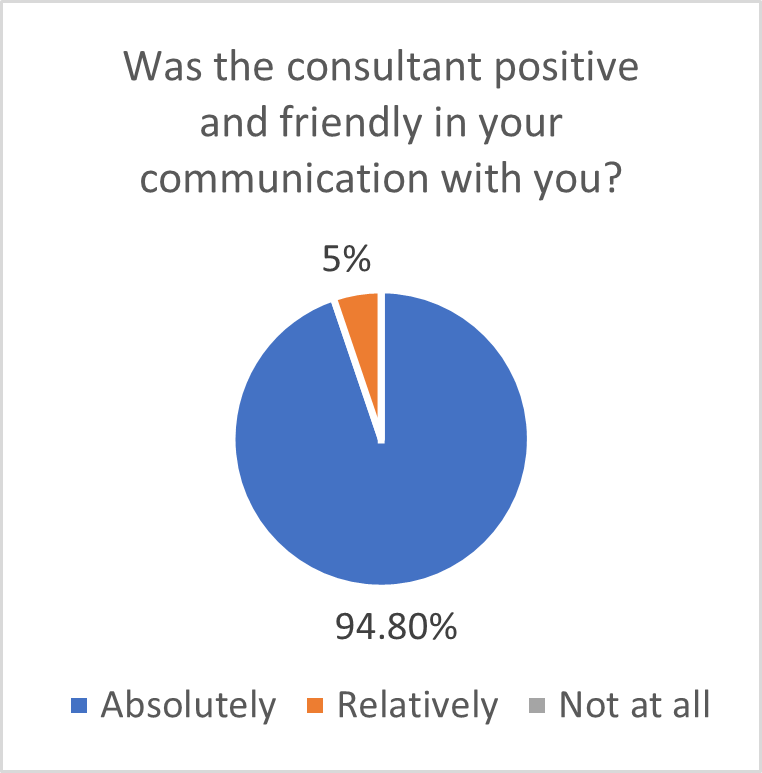 Fast is good, but not too fast, as swiftness often opens space for errors and could suppress the chance to mediate vital information. Fortunately, over 60% of the candidates we contacted felt satisfied with the quality and volume of the information we provided, whereas another 35% even wanted to learn more about the company.
The latter is actually good news, because it tells us that we leave the people positively warmed up for contact with the company, hopefully a bit anxious too. Interestingly enough, this result comes even from people, who couldn't climb up to that hill a.k.a. did not reach the final stage in the recruitment process, a.k.a. failed. Yet, we strive not to bring desperation, but rather hope and encouragement, so these values are always reflected in our entire communication with clients and candidates alike. Therefore not surprisingly 95% of the respondents found us to be absolutely friendly, just as for the other 5% we were relatively so.
Here are some main topics, which stand out in our candidates' suggestions, which not only highlight angles we need to smooth out and motivate us to be better in what we do, but stand true for our very domain:
Dear Recruiter, please, have a solid internet connection. Now, more than ever.
When you have to reject a candidate, try to do it structurally and provide reasons for that. Don't be an automated message.
Ask the employer to share a bit more about a "day on the job". It would benefit all sides to have more than a taste about what conditions are waiting ahead of the future employee.
Demographic profiling is a thing, and it needs to be backed-up with good arguments.
Be free to give suggestions on how the candidate could improve.
It is true that this year was challenging for us all. Next one will likely be ever so demanding and trying, which could only push us to be warmer and more humane to one another. To be just as professional and thriving to achieve and grow, even while wearing our office pyjamas at home.